Menu » Events 2016
Milí přátelé a příznivci naší galerie,
přejeme úspěšný start do roku 2017. Věřím, že to bude klidný a úspěšný rok, který nám všem přinese hodně inspirativních nápadů a hlavně dostatek síly k jejich realizaci.
Rok 2017 na nás za chvilku už zaťuká a my už vymysleli, čím bychom vás mohli v naší galerii potěšit. Tedy věříme, že tomu tak i bude.
Pro rok 2017 jsme vybrali téma a vlastně i název výstavy – Ptáci v zahradě. Opravdu se moc těším na nápady (někdy možná až na všelijaké veselé ptákoviny) od našich spřátelených umělců.
Výstava by se měla jako vždy otevírat vernisáží předposlední sobotu v květnu, tedy 20. 5. 2017 ve 14.00
Tak ještě jednou vše nej, nej do nového roku a na shledanou na jaře v Kostelci n. Č. lesy
Za Galerii Jan Svatoš vaše
Štěpánka Bašková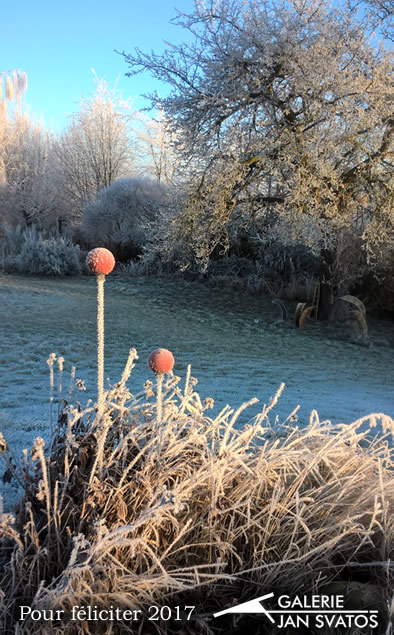 Dear friends and supporters of our Jan Svatos Gallery in Kostelec – Czech Republic
slowly approaching the penultimate Saturday of May 21. 5. 2016 – meaning the day of the eagerly awaited opening. As usual, we look forward to you at 2 PM. This year we have prepared for you is really a treat. You will see for themselves how much is weighted 35 and renowned artists struggle with the theme of "Dwarf". Definitely we will see a lot of interesting ideas and concepts.
Initial short scientific lecture utters weighted trpaslíkolog Mr. Vaclav T. Houfek (Scientific Secretary of the Museum of Ústí nad Labem)
And because we all liked the last jazz concert, so we decided to repeat it.
We look forward to meeting you at a joint pleasant afternoon in the gallery and in the garden. Admission CZK 50
On behalf of Galerie Jan Svatoš
Štěpánka Bašková